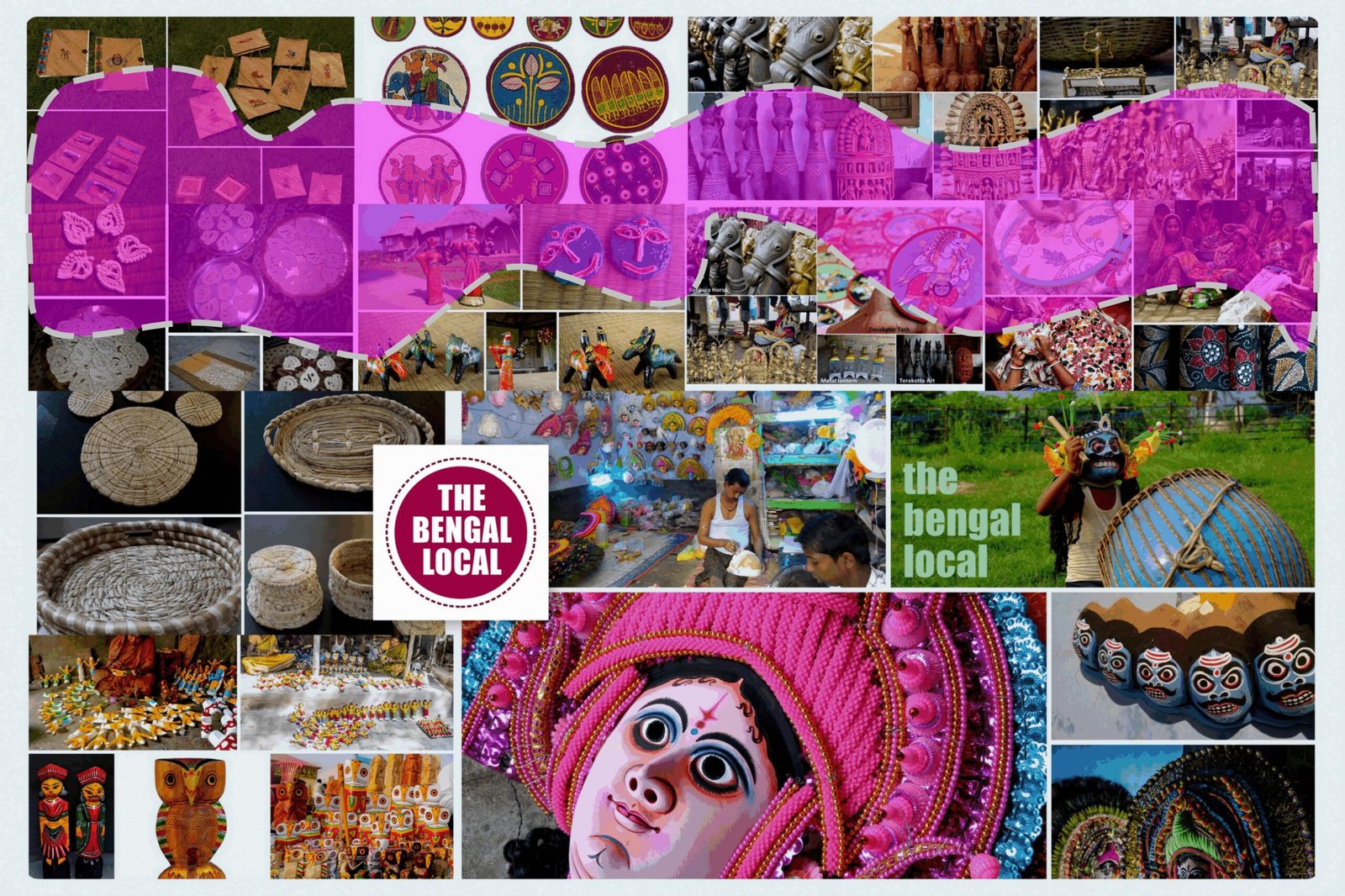 West Bengal serves as home to many talented artisans in India. The unique rustic and mystic charm of Bengal crafts is admired by art-lovers the world over. From embroidery to sculpture and sketching to metal crafts, the state has a unique specialization in many forms of craft. The age-old traditional crafts of West Bengal have been so well molded according to the present day demands that it seems that these artisans, apart from their traditional skills, have an expertise in the art of survival as well. Even if you have little understanding of arts and crafts, you will certainly be captivated by the unique handicrafts of West Bengal. Let us know more about them.
The Kantha folkart of Bengal:-

One of the most important folk art of Bengal is Katha (spelled as Kantha). Not for business purposes but the ladies used to make them strictly for members of their families. In Bengali language, 'Naksha" means pattern – thus the colourful designs that are embroidered, resulted in the name "Nakshi Kantha". On the other hand you can say that Katha making is the most innovative way of recycling. Reusing old textile medium and creating utility good under most wonderful creativity. The form of designs, motifs keep changing as the scene changes in daily life. One can have an idea of the local lifestyle of people after exploring this amazing artform. You can search our social media and find the terms and uses of 'Arshilata', 'Oaar', 'Byaton', 'Sujani', 'Lohori', 'Durjani', 'Rumal Kantha' etc etc.
As these are hand crafted there may be similarities but no two wrappings can be said alike. So all Kanthas of Bengal are unique and exclusive in nature. Some exquisite embroidered patterns are simple and some art goes beyond richness. During your trip to Bengal, please visit Gurusaday Dutt Museum for the overwhelming collection of folk art. If time permits, ask Bengal Local for making an itinerary with the Kantha Artisans Workshops in different districts of West Bengal.
Chhau… Chow… or Cho – Dance Masks of Bengal:-

People used to say Cho comes from Mayurbhanj – a princely state. However this is a form of tribal mask  dance of India, where three types or styles of the dance are still performed – Seraikella in Jharkhand, Mayurbhanj in Orissa & Purulia in West Bengal. Over at Purulia, the thematic content soaked in 'Veer Rasha' is drawn from stories of Ramayana, Mahabharata & Puranas.
 The most important and characteristic part of Purulia Chhau is the mask. The colourful mask and heavy costume are the most important props used for the show. Now-a-days people used to showcase this amazing art over at their home as a wall hanging.
The term 'Chhau' originated from the Sanskrit chaya (shadow). However some enthusiasts used to say that the 'cho… cho… cho'sound, often echoed during shikar (Hunt) is the source. Another opinion suggests that it comes from 'Chauni' – a local dialect meaning 'an army camp'.
Lac / Shellac Dolls of Bengal:-

In Bengali this is called 'Galar Putul'. Common forms of shellac dolls that are made in Bengal are 'Elephant', 'Tortoise'. 'Horse',  'Mother & Child', 'Horse Rider' etc.  Did you know this art form requires termites' nests for the clay ?? Amazing isn't it? In ancient days, for worship, people used to make figures of gods. It is an ancient craft of making lac coated terracotta dolls or toys. Manasha, Ganesh idols are also being made for worshiping purposes and as showpieces for home decor.
Paint powder mixed with heated lac first to make a long painted stick. Natural colors used in many cases. The terracotta dolls were then heated and painted with these sticks. Fine strings of golden-colored lac made and used to decorate these figurines. All these are done using bare hands and the skills of the artisans are really appreciable.
Goyna Bori – a perfect food art:-

Yes! You can light fry and eat these amazing pieces. This art form, precisely a gem of folk cuisine, is one of the specialties of its Purba Medinipur district. 'Gohona' or 'Goyna' means jewellery in Bengali. Because of the intricate design the name is 'Goynabori' or 'Naksha Bori'.  This is a manual process, laborious and time taking too. The main raw materials used for making these are 'Kolai / Biuli Dal', 'Posto / Poppy Seeds', 'Salt' & 'Oil'. The batter used to whisked vigorously to make this more fluffy. After making these, they are dried. This drying process is also very delicate. First in shade then under direct sun.
One can eat these round the year either during lunch or as an accompaniment with evening tea. Now-a-days, people are so busy that due to lack of time, the making of 'Goyna bori' is a dying art.
Another interesting fact is that renowned film director Shree Satyajit Ray used this piece of amazing culture over at his cinema 'Aaguntuk' where Anila served this unique piece of art to her never met uncle Manmohan Mitra during the shot taken during lunch.
Terracotta Craft of Bengal:-

In the course of the last few decades the fame of the commonly known 'Bankura Horse' has reached many parts of the globe. The 'Bankura Horse' has now come to be regarded as a symbol of the artistic excellence of Indian rural handicrafts. A pair of terracotta horses in a corner of a room adds class to any Bengali living room.
Earlier there were 300-400 craftsmen, but now 60-70 Kumbhkars (Potters) families who do the Terracotta works at Village panchmura of Bankura Clay Pottery Segment. This is  the area known as "Rarh" in Bengal. The complete process is Preparation of the materials, Mixing the Clay properly, Wheel work. Drying, Hand work, Detailed Motifs work, Final Drying, Colouring, Firing, Testing/Sorting.
This terracotta artform began under the Malla dynasty, during the late medieval period. Terracotta horses and elephants comprise the main objects of Bankura clay modeling.
Water Hyacinth – An eco craft:-

"Water hyacinth mats degrade water quality by blocking photosynthesis, which greatly reduces oxygen levels in the water. Recognized as one of the top 10 worst weeds in the world, it is characterized by rapid growth rates, extensive dispersal capabilities, large and rapid reproductive output and broad environmental tolerance. So using this asa raw material actually helps our society.
The products made from water hyacinth fiber has the advantage of the fiber tough and durable properties, which could last up to 3 to 5 years. Water hyacinth stem is fibrous and filled with water content. In order to transform those stems into usable material for handicraft, they have to be dried first. Prepared stems are then boiled in the colour and dried for permanent colouring. For a glossy look, products are burnished with melamine. Finally, they are smoked to protect them from insects and fungus. With water Hyacinth, crafts can be made as coaster, slippers, basket, hat, fruit tray, furniture, paper, rope, basket, mats, shoes, sandals, bags, wallets, vases, etc.
Dasabatar Taash – play with art:-

Playing cards is often regarded as a means of pleasure and enjoyment – this is normal. It gets more interest when the play require a set of playing cards depicting the ten incarnations of Lord Vishnu. Wow!! Game related to religion? Yes! The game played with this particular deck of cards started 400 years ago in the court of King Bir Hambir.
The Bishnupur Dasahavatar cards are 120 in numbers instead of 96 of the Mughal set. The cards have, painted on them, images and symbols representing the ten incarnations of Lord Vishnu, the Dashavatar. These suits can be identified by their symbols. The Matsya is symbolized by a fish, Kurma by a turtle, Baraha by a conch-shell, Nrisingha by a chakra or disc, Baman by a water pot, Parsuram by an axe, Sri Ram with an arrow or a bow, Balaram with a plough or club or cow, Lord Buddha with a lotus and Kalki with a sword or horse.
The artisans from the Faujdar family of Bishnupur specialize in making the Dashavatar play cards.
Dokra Craft:-

By combining the metallurgical skills with that of the lost wax technique is the method of making Dokra. This is a very old technique – as old as Indus valley Civilization. The handicrafts are known for combining the metallurgical skills with wax technique for making utility crafts of distinctive look and beauty. The lost wax technique is a distinct form where the mould is used only once and broken, which makes the figure one of its kind in the handicraft market.
Most popular models are metal figurines of Devi Durga, Elephants, Tribal lady combing on a cot, different motifs of daily livelihood scene, animals & birds as peacocks, horses and also household articles such as measuring bowls. While Dokra art originated in West Bengal, over time the tribes moved to Jharkhand, West Bengal, Orissa and Chhattisgarh as well as places like Kerala and Rajasthan. Hence, the art has now spread all over India.
Wood Craft:-

For generations the artists have been known as sutradhars, storytellers or narrators, thread-bearers. But instead of words or wood or paper, this folk art began with stone. Cut from a single piece of wood and characterised by their trademark ethnic designs and vibrant colours, the dolls are the personification of the rural art of Bengal. With the growing demand of wooden dolls, people here also started making chairs, tables, clocks, and tea trays.
The sculptures are mostly made from white teak wood. But, mango wood, shimul wood, and ata wood are also used. Dolls of Gaur-Nitai, Krishna, Shiva, Kali, Durga, a royal couple [king and queen], bride, etc are typically made. But, the wooden owl is the special one of them all. It was traditionally used to worship Goddess Lakshmi.
Around 51 families living in the area are involved in doll making. The craft making is a family based activity in which men are skilled in wood carving and women do the colouring. The doll makers have last name Bhaskar, meaning sculptor or Sutradhar, meaning story teller.
THE BENGAL LOCAL
Sikkim Commerce House, 4/1 Middleton Street, Ground Floor,
Kolkata 700071, Bengal.
WhatsApp: +91 94774 76376, +91 98310 95234
Email ID: bengallocal@gmail.com